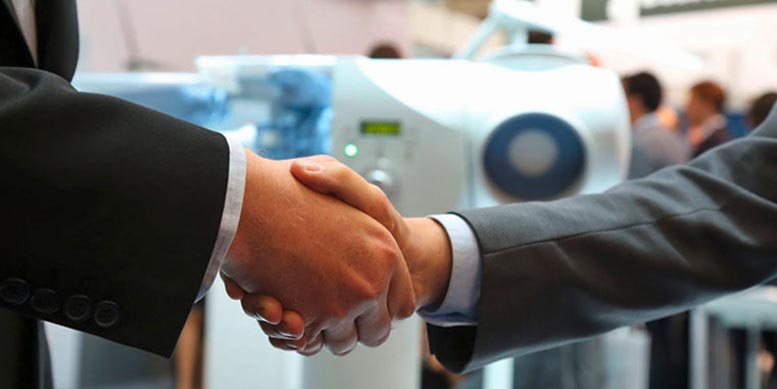 The Global Wind Summit, starting in September in Hamburg, will be the biggest and most important meeting of the wind industry worldwide. It combines the world's leading wind industry expo WindEnergy Hamburg with the global conference of WindEurope to create a high-powered, unique platform for business, networking and information for the onshore and offshore wind industry. These two top events, the expo and the conference, will be held side by side from 25 to 28 September 2018 at the Hamburg Messe site.
At WindEnergy Hamburg, covering nine exhibition halls, more than 1,400 exhibitors from 35 countries will present their product innovations and customised solutions for the wind industry, including all the leading international companies and specialist suppliers for the whole of the value chain. The American Wind Energy Association, a supporting association for the Global Wind Summit, will join stakeholders and other visitors from North America at the event.
USA Pavilion
The American Wind Energy Association (AWEA) is this year's patron of the US Pavilion. "American wind power has world-class resource potential, a robust supply chain, and a bright future that we're excited to showcase at the WindEnergy Hamburg's USA Pavilion," said Brent Nussbaum, AWEA's Vice President, Member Relations. "Land based wind power is a competitive and mainstream energy source, supplying over 6 percent of U.S. electricity last year and supporting over 100,000 U.S. workers across all 50 states. Looking ahead, offshore wind is poised to take off, expanding the opportunity for workers and supply chain businesses to manufacture, deploy and operate these projects."
The world's leading expo WindEnergy Hamburg is the global event for US companies and European market leaders to meet and forge mutually beneficial lasting partnerships. This year, the expo puts the focus on three major subjects: "Dynamic Markets", "Cost-Efficiency" and "Smart Energy".
US market leaders
Many WindEnergy Hamburg exhibitors are doing business in the US. Vestas, Siemens Gamesa, and Nordex Acciona, together with US giant GE Renewable Energy last year captured a combined 99% for all new installed onshore turbines. GE's volume product portfolio includes the latest 127-metre rotor option for 2.2 – 2.5MW rated turbines, aimed at offering a high capacity factor and reduced LCOE. Vestas led the onshore segment with 35.4% market share and it dominated the important 2MW+ class. The latest V116-2.2 MW for medium-wind succeeds focuses specifically at North American wind conditions. The towers, blades, nacelles and hubs for these 2MW+ turbines are in-house produced in Colorado, explained Vestas press officer Alexandra Thiis Billing: "We already have full capabilities for our increasingly popular 3MW and 4MW platforms in the US, and intend to produce the components for these platforms locally in future."
Higher US turbine ratings
Siemens Gamesa introduced a new 2.7MW turbine with 129-metre rotor and a new low-wind turbine for the US market. It already manufactures blades of the 2.3MW SWT-2.3-108 model in Fort Madison (Iowa), and nacelle and hub assembly in Hutchinson, Kansas. The company in 2017 expanded its blade development R&D facility for onshore and offshore of the global fleet in Boulder, Colorado, to a 50-person engineer and scientist headcount.
An ongoing global (and US) market trend is for 3 – 4MW+ ratings with matching larger rotor and hub heights. All leading OEMS will explain WindEnergy Hamburg visitors on their latest 3MW+ and 4MW+ onshore turbine models. Key low-wind models include the Vestas V150-4.2 MW, the latest 4.2MW Senvion 4.2M140 EBC and 4.2M148 EBC, and GE's most powerful 4.8MW 4.8-158 also featuring the world's largest 158-metre rotor diameter. The Nordex Group in 2017 captured 11% of the US market, and its 3MW+ AW125 bestseller series will in 2019-2020 be supplemented by the AW140/3000 and N149/4.0-4.5, said company spokesperson Felix Losada: "Both are our best offerings in the US for achieving the lowest possible LCOE, with their product-market focus especially at densely populated low-wind regions at the US East Coast. We will further construct several windfarms near the Mexican border, all with AW-type turbines put atop in-house concrete towers constructed in mobile tower plants."
Concrete-steel hybrid tower specialist and WindEnergy Hamburg exhibitor Max Bögl Wind entered the US market with its own solution offering up to 180-metre hub height, and it offers mobile factories for manufacturing the concrete tower sections.
Experienced experts for Offshore requirements
Siemens Gamesa and MHI Vestas dominate the world's largest European offshore market with their 7 – 8MW+ direct drive and 8 – 9.5MW MHI Vestas medium-speed geared units respectively. These and experienced project developers and WindEnergy Hamburg exhibitors like Ørsted and Statoil all eye at the emerging US offshore market, and will inform US visitors about their current product and service offerings.
GE supplied five 6MW Haliade 150-6MW direct drive turbines for the first 30MW Block Island offshore windfarm in the US. A 12MW GE Haliade X direct drive turbine with record 220-metre rotor diameter is in development, with first deliveries planned in 2021. WindEnergy Hamburg exhibitor LM Wind Power of Denmark developed the record 107-metre blades.
Resolving bottleneck
Dutch marine-engineering specialist GustoMSC finally introduced a new 'rationalized' and Jones Act compliant jack-up design specifically focused at the emerging US offshore market. It has a large open deck space and sufficient main-crane hoisting capacity for the latest 8-9.5MW offshore turbines and the foundations. The designers for instance skipped an own propulsion system and large accommodation facilities, but retained the advanced hydraulic 'Pin in Hole' jacking system. Currently there is no such installation equipment available in the US, and GustoMSC experts will explain US visitors on their range of options available for resolving this major bottleneck.
WindEnergy Hamburg und Husum Wind
The Global Wind Summit will be held in Hamburg, the global wind capital, from 25 to 28 September 2018. Some 1,400 exhibitors from all parts of the world will present their product innovations and projects at WindEnergy Hamburg. The leading global expo for the onshore and offshore wind industry reflects the global market with the whole of the value chain. In parallel, WindEurope will hold the global onshore and offshore in the halls of Hamburg Messe. The Global Wind Summit is held every two years in Hamburg, bringing together the world of wind energy. From 10-13 September 2019, the Who's Who of the German wind industry will be gathering at HUSUM Wind, partner and next year's most important German wind trade fair. Global market leaders, business pioneers and innovative start-ups: on and offshore businesses will be showing cutting edge technology, product trends and examples of best practice from Germany and the neighbouring EU countries. For more information, please visit windenergyhamburg.com and husumwind.com
Quelle Text & Bild: windenergyhamburg.com