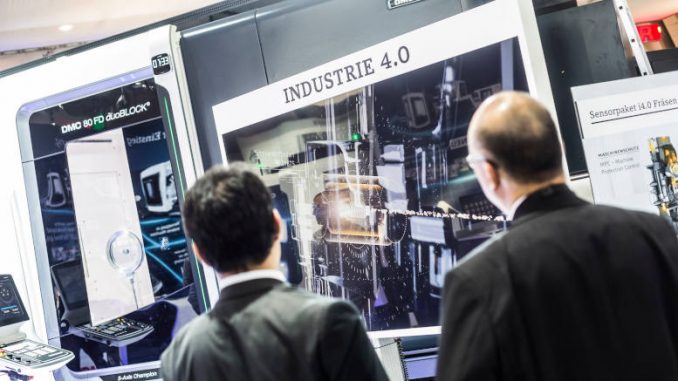 Experts are in broad agreement: the traditional machine tool will predominate in production halls for the foreseeable future – despite some competing technologies. Additive manufacturing (AM) as an example: in his capacity as Head of Research + Technology at the German Machine Tool Builders' Association (VDW), Dr. Alexander Broos has a good overview since the VDW had conducted its own internal study regarding this technology. "Although additively manufactured parts are frequently talked about, they still represent a very small percentage."
AM also needs metal cutting
AM is also not possible without mechanical processing. "The components must be removed from the base plate and certain surface qualities or function surfaces can only be produced mechanically." Axel Boi, Head of Product Planning at the machine tool manufacturer Chiron, also concurs: "The threshold towards larger unit numbers will naturally alter, but since mechanical processing of function surfaces is now required in every 3D process, I regard this as more of an opportunity than a risk."
According to Broos, the advantages of AM processes can be found "wherever complex parts have to be produced in small unit numbers or even individually, i.e. for example in mould making or medical technology." However, additively manufactured components always required a very specific analysis of the individual case in order to also be economically successful. "But this analysis is much more complex than for conventional turned/milled parts."
Evolutionary adaptation instead of disruption
The Swiss machine tool manufacturer Starrag also does not believe that there is a danger of disruption. "It's also a question of evolutionary adaptation of the machining solution in the overall context of the value-added chain," said Managing Director Dr. Marcus Otto with conviction. He cited the machining centres of the Starrag brand Heckert as one example of this evolutionary process. "Processes such as gear cutting, grinding, friction stir welding and naturally lathe turning are already part of everyday work on our machines."
Dr. Ömer Sahin Ganiyusufoglu has been advising for some years the Chinese machine tool manufacturer SYMG which belongs to the Schiess company in Germany. In his opinion, technologies such as robotics or AM will actually increase the potential uses of machine tools and complement the product portfolio. Dr. Ganiyusufoglu said that practical applications of AM included prototype construction and repairs of turbine blades.
Material efficiency and freedom of design
A large number of exhibitors at AMB have already discovered the potential of additive manufacturing as a business field or are now at least examining its potential. Jürgen Förster, a member of the Board of Management of the clamping fixture manufacturer AMF Andreas Maier, is keeping a close eye on the entire process chain of additive manufacturing. The biggest advantages for him are the high level of efficiency with expensive materials and total freedom when designing the components. "Prototyping, small-series production, spare parts manufacturing and lightweight construction can be organised more flexibly," is his conclusion. Using a special zero-point clamping system as a standard interface, AMF is focusing on 3D printing and its post-processing: "This reduces set-up times enormously and also makes downstream processes such as cleaning, sawing, machining or measuring more efficient and quicker."
According to Dr. Dirk Sellmer, Vice President Research & Development at Mapal Dr. Kress, design freedoms also represent the biggest advantage of AM. Mapal uses this advantage "to design substantially lighter tools, for example through internal cavities. The cooling channels can be ideally designed." However, this takes place primarily in combination with conventional manufacturing. Products featuring functionalities that were not conceivable in the past can therefore also be manufactured. A highly temperature-resistant high torque chuck without a soldering joint is already being produced in series.
Deposition and metal cutting
Traditional machine tools and generative manufacturing methods have long since been merging. The pioneer was DMG Mori with its subsidiary DMG Sauer Lasertec. It combines laser deposit welding with a 5-axis milling machine. Many other machine manufacturers are now pursuing similar paths. Mazak as an example: two machine families combine a laser welding process for material composition with 5-axis machining. A wire arc head is used to apply many different materials, e.g. stainless steel, nickel alloys and copper. According to the manufacturer, this permits, for example, complete machining of highly complex parts using both cutting and additive machining operations within the same machining process.
Starrag has a slightly different viewpoint. Dr. Marcus Otto does not believe that the machines from his company offer a practical combination of additive processes and metal cutting: "We are focusing on the parallelisation of the necessary process steps. The key towards increased efficiency therefore lies in intelligent interfaces which are currently being developed."
Robots only for handling and automation …
Another frequently discussed topic with substitution potential is robotics. According to Dr. Ganiyusufoglu from SYMG, however, there are narrow limits for increased use of a robot which performs specific machining steps: "From a certain point onwards, robots reach their limits due to their inadequate rigidity."
Axel Boi from Chiron is at any rate confident that robots can perform simply processes such as deburring or inscribing, and in an ideal case as a complement to automation.
Hansjörg Sannwald, Head of Market and Product Management for CNC Systems at Bosch Rexroth, agrees: "As soon as high precision is involved, conventional machine tools with rigid feed axes now have an advantage." The strengths of robots will still lie in the areas of handling and automation. However, in order to ensure that the machine tool and a robot can ideally cooperate, CNC systems such as the MTX system solution from Rexroth are essential: they cope with both worlds and therefore reduce the level of complexity."
… or just for metal cutting?
However, Volker Wiedmaielr, International Production Manager at the precision tool manufacturer Paul Horn, believes that the number of tasks will increase considerably: "More and more ancillary activities from machining centres will be transferred to robots in order to thus reduce the time for machining parts and make more productive use of auxiliary process times." Jochen Ehmer from the clamping system manufacturer Schunk added: "In recent times robots have been used to an increasing extent for traditional cutting of metal materials." In particular, they could prove their strengths in machining large workpieces where they were used more and more frequently in a type of mobile machine tool. "Especially in the smart factory, we are assuming that robotics will become even more important in machining processes, mainly wherever a high degree of flexibility is required."
In addition to conventional automation, Starrag also uses robots for ancillary tasks. Marcus Otto: "Since the field of action of robots is becoming ever larger, we can meaningfully streamline metal cutting in individual cases and offer our customers the necessary increase in efficiency by means of parallel ancillary processes."
Jürgen Förster's conclusion which is probably shared by the majority of industry representatives: "Conventional machine tools will certainly not disappear from manufacturing companies. On the contrary, an efficient combination of different production methods will drive industrial companies forward and enable them to grow. The next AMB in Stuttgart will show the ideas and innovations that will be used by these companies."
About AMB
Around 90,000 international trade visitors and 1,500 exhibitors are expected to attend AMB 2018 in Stuttgart from 18 to 22 September 2018. On an exhibition area of more than 120,000 square metres, the exhibitors will showcase innovations and further developments for metal-cutting and metal-removing process machine tools, precision tools, measuring systems and quality assurance, robots, workpiece and tool handling, industrial software & engineering, components, assemblies and accessories. AMB 2018 is backed by the promotional supporters, i.e. the VDMA Precision Tools Association, the VDMA Software and Digitalisation Association, and the German Machine Tool Builders' Association (VDW).
Source content & image: www.messe-stuttgart.de